The Camp Seneca Lake Staff Is:
Camp Seneca Lake takes pride in the quality staff that return year after year. Our division heads, Chinuch staff, Sports & specialty staff, waterfront directors, infirmary personnel and any other specialty area staff  all play an integral part in the day to day operation of the camp. We are one big family that cares for your children like our own. Camp Seneca Lake is home to approximately 450 campers and 150 staff.  Our counselor staff come to us from many of the main Yeshivahs in the New York Area as well as Florida, California and Israel. Working at Camp Seneca Lake is a very rewarding experience for both the staff members and the campers and ultimately, our goal is to have these experiences, friendships and memories stay with the campers and staff for the rest of their lives.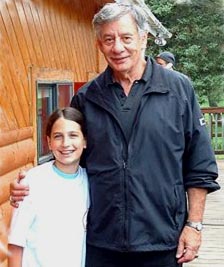 In 2010 Irv was elected into the Jewish Basketball Hall of Fame
Irv Bader is the founder and Director of Camp Seneca Lake. He has been a camp Director for over 41 years, and hires all his staff members, and oversees the entire camp operation. He makes sure that all campers' religious, social and athletic needs are met. Irv has been able to retain key staff members at camp for many years.
Irv is also the Chairman of the Physical Education Department and Athletic Director at Touro College in New York, NY. Prior heading up Touro College's Athletic Department, he was the Athletic Director at North Shore Hebrew Academy High School in Great Neck, NY and Flatbush Yeshiva in Brooklyn, NY. He was also the Director of Adapted Physical Education for the New York City Department of Education for 28 years and a retired Professor of Physical Education at Brooklyn College for 26 years.
Camp Rabbeim And Chinuch Staff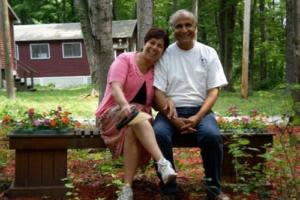 Rabbi Menachem and Naama Nagar
The Nagars: Menachem is a high school history teacher, and Naama is an English teacher in Israel. We live in Hadera, and we have four children and five grandchildren.We've been at camp Seneca for 14 years. We love working with the campers, and we are looking forward to next summer.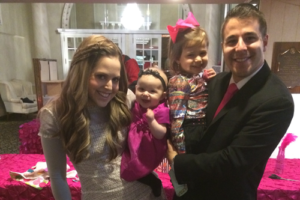 Rabbi Yoni and Rachel Fein
Rabbi Yoni and Rachel Fein and their two children are excited to return to Camp Seneca for the summer! Rachel currently works in the Early Childhood Department at The Moriah School. Rabbi Fein is currently an administrator in the middle school at Moriah and has coordinated the middle school's transition to personalized and blended learning. After receiving his Master's from the Azrieli Graduate School of Jewish Education & Administration, Rabbi Fein graduated from YU LEAD, a school leadership certification, and is a Google Certified Educator. Rabbi Fein is a sports fanatic and looks forward to coaching Seneca's football team to victory.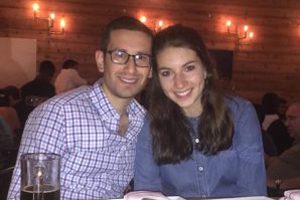 Rabbi Yitzi and Hannah Landa
Yitzi and Hannah Landa reside in Queens, New York where they are involved in using their complimentary talents to inspire growth. During the year Yitzi works at Shaping Lives, a Jewish learning program for public school students and Gemara Academy, an online interactive method of learning Talmud. Hannah works as a personal trainer and has her own health and wellness business that uses all natural ingredients in their products. Together Hannah and Yitzi look forward to bringing their talents to Camp Seneca Lake and become role models for the body and soul.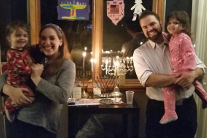 Rabbi Jon and Leah Savage
The Savage family hails from Columbus, OH. Rabbi Savage is a Gemara, Chumash and Jewish History teacher for grades 7-12th in the Columbus Torah Academy. He is also the Intern Rabbi at Beth Jacob Congregation in Columbus, OH. Rabbi Savage was born and raised in Queens, New York, a graduate of North Shore Hebrew Academy High School. He received his Rabbinical ordination from Beit Medrash Le Talmud/ Lander College. Before moving to Columbus, Rabbi Savage taught in the HAFTR high school. Rabbi Savage comes to camp with his wife Leah. During the year she is the Director of Student Activites, Israel guidance and teaches at the school as well. At camp Leah is currently the program director. They also come with their two children, Dahlia (age 3) and Yehudah (age 2). This will be the Savage's 4th summer and camp and they are very proud to be in the Seneca Family.
Ross Zuckerman

Assistant director
Shalom Babayev

Division Head

Andrew Leibowitz

Special Activities Coordinator

Meri Rosenblatt

Division Head

Karen Hershkowitz

Division Head

Hillary Newman

Division Head

Robin Zuckerman

Division Head

Hannah Lippman

Division Head 

Danny Lebowitz

Division Head

Leah Savage

Program Director

Stacy Klass

Head of Summer office

Deborah Leifer

Office Staff

Beth Pykus

Accounts Payable

Judith Rose

Head Nurse

Judy Kahn

Infirmary Manager

Tori Simon

Lake Director

Andrea Randolph

Pool Director

Mark Wiseman

Athletic Director

Chad Davis

Head Tennis Director

Chaya Willick

Drama Director

Irene Okun

Arts & Crafts

Zeeva Sklar

Arts & Crafts

David Benhamu

Head Chef

Anat Best

Specialty Chef for diets/allergies