The Camp Seneca Lake Staff Is:
Camp Seneca Lake takes pride in the quality staff that return year after year. Our division heads, Chinuch staff, Sports & specialty staff, waterfront directors, infirmary personnel and any other specialty area staff  all play an integral part in the day to day operation of the camp. We are one big family that cares for your children like our own. Camp Seneca Lake is home to approximately 450 campers and 150 staff.  Our counselor staff come to us from many of the main Yeshivahs in the New York Area as well as Florida, California and Israel. Working at Camp Seneca Lake is a very rewarding experience for both the staff members and the campers and ultimately, our goal is to have these experiences, friendships and memories stay with the campers and staff for the rest of their lives.
A Letter from Ross Zuckerman
Director
Dear Camp Seneca Lake Family,
I am happy to be able to officially share the news that the Zuckerman Family has purchased Camp Seneca Lake and I am now Director of the Camp. As many of you know, this has been a dream of mine since I first stepped foot in Seneca back in 1988 when I was 10 years old. Thank you to my brother Brett who has been instrumental in the transition and who will be assisting in many areas going forward. I want to extend a huge thank you as well to everyone involved in making this purchase possible.
I would like to express my heartfelt appreciation to Irv and Elie Bader who started Camp Seneca Lake in 1974 and, over the past 50 years, have built the camp to be the premier orthodox summer camp that it is today. Irv has guided and taught me for the past 20+ years, has treated me like family and together we have made a great team.
Thank you also to Sue and Jerry (z"l) Kaufman for all that they have done over the past 50 years. Together with Irv and Ellie and their extended families, they have been incredible role models and a huge support team throughout the years.
This past summer has been one of the best of my career due in large part to our hardworking and dedicated staff. They deserve significant praise and a huge thank you for all their efforts. We had a record number of campers enrolled, won many Wayne County Championships, won the prestigious Timberlake Basketball Tournament, and once again swept the girls dance competitions in all age groups. The additions of the ATV's and the beautiful pickleball courts were a huge hit. This year, post-Covid, we started bringing back our overnight trips, and our campers loved them!
Under the guidance of our rabbinic team, the kids davened with a minyan three times a day and our Z'merot and ruach, both during the week and on Shabbos, were truly inspiring. Our enhanced social media efforts and weekly videos showed the kids in action enjoying their activities, the great food – and all that Seneca has to offer. Most importantly, the kids had a great time and created life long friendships. The camp had tremendous spirit, achdut and positive energy throughout the summer.
Looking ahead, we have a lot of exciting things planned, including more bunk upgrades and with the recent acquisition of an adjacent 20 acres of open land, we now have amazing opportunities to enhance and grow our facilities.
Thank you for trusting us with your children. I'm sure that they shared with you the incredible memories they made and the laughs that they had. Please click here to view our color war video from the last week of camp. On behalf of the staff and myself, I know that we're missing your kids already! We hope to see them throughout the year and look forward to their return next summer. Many of the divisions were sold out and had a waitlist this past summer, so please sign up early to reserve your spot. Registration for Summer 2024 will be open shortly…We can't wait!
Shabbat Shalom and Chodesh Tov.
With appreciation,
Ross Zuckerman
Director, Camp Seneca Lake
Camp Rabbeim And Chinuch Staff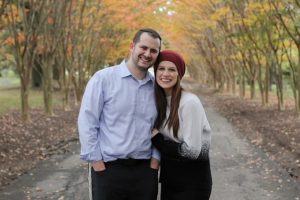 HEAD RABBI
Rabbi Josh and Rikki Lehman
Rabbi Josh and Rikki Lehman have been the OU-JLIC rabbinic couple and directors at the University of Maryland for the past few years.
Rabbi Josh Lehman grew up in Monsey, New York but has spent most of the last decade living in Israel. After studying in Yeshivat Hakotel for 2 years and serving as a combat soldier in the IDF, Josh continued on to study Computer Science at the Jerusalem College of Technology. He then received Smicha from the Mizrachi Musmachim Program while serving as a Gemara shiur assistant and teacher in both Yeshivat Hakotel and Aish HaTorah.
In addition to playing guitar, running, and enjoying a good football game, Josh loves to spread his passion for learning Torah through a warm yet sophisticated lens. He loves to build full and meaningful relationships with everyone he meets and never gets tired from a good shmooze.
Rikki Lehman grew up in Miami Beach, Florida. She studied for a year and a half in Sha'alvim for Women in Yerushalayim, and went on to study in Stern College for Women, where she majored in psychology. During her college years, Rikki was involved in informal education, as an NCSY advisor during the year and on summer programs such as Michlelet and TJJ. The summer after graduating Stern, Rikki made Aliyah and worked as a madricha and part-time teacher in Machon Maayan. She worked as an Admissions Coordinator for Yeshiva University in Israel, and taught classes on Navi and Modern Jewish Thought in Machon Maayan.
Rikki is a big coffee lover and enjoys road tripping with family and friends. She is passionate about teaching and learning from people of all different backgrounds, and creating lasting relationships with those around her.
Along with their two boys, Yair and Gavriel, the Lehman's are so excited to be spending the summer at Camp Seneca Lake!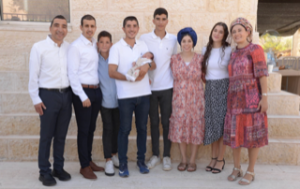 Shimon and Idit Shushan
Shimon and Idit Shushan, who will be joined by two of their five children, Yishai and Maayan, are thrilled to be joining the Camp Seneca Lake community this summer!They have three older children, Shachar, Roi, and Amichai, who will remain in Israel during the summer. With a love of education at the core of their values, this family hails from Nitzan, Israel, a very special town by the sea.
Outside of their work at Seneca, Shimon serves as the head of a high school yeshiva in Rehovot, while Idit teaches Hebrew language in a girls' high school. Prior to those roles, the Shushans previously served as Shlichim in Springfield, Massachusetts for four years and in Teaneck, New Jersey for three years. They are eager to share their love and knowledge of Jewish texts, as well as the ethics and morals of Judaism with the campers at Camp Seneca Lake.
Ross Zuckerman

Director

Oded Karavani

Associate Director
Shalom Babayev

Upper Boys Head Staff

Eldari Yahalom, Ido Suissa

Upper Boys Division Heads

Andrew Leibowitz

Special Activities Coordinator & Mini Camp Director

Kfir Day, Aharon Akilov

Lower Boys Division Heads

Tehilla Karavani

Lower Girls Mom

Ortal Flaumenhaft

Middle Girls Division Head

Mirel Horowitz, Hila Kahana

Lower Girls Division Head

Yishai Klein, Avia Danino

Middle Boys Division Head

hannah Lippman

Assistant Division Head

Amy Kalter

Head of Summer office

Eliza Dachs

Infirmary manager

Beth Pykus

Accounts Payable

Judith Rose

Head Nurse

Aliza Duftler

Infirmary Staff

Yonit felderman

Head of Pool

Andrea Randolph

Head of Lake

Allison Ross

Program Director

Jenny Goldstein

Assistant Program Director

Rodrigo Mere

Head Tennis Director

Shoshana Kattan

Arts & Crafts

David Benhamu

Head Chef

Meytal Akilov

Head Chef special diets/allergy kitchen

Nikki Sulemanoff

head of summer office

Hila Duwek

Head of cooking program

Tali Seinfeld

Infirmary staff

roi molgan

head of israeli staff

Emil Coronado

Assistant Division Head, Head of Softball Program

Zeeva Sklar, Robyn Dweck

Upper Girls Division Head

Nechamie Goldberg

Infirmary Staff

Talia Rosen

Infirmary Staff

Chad Davis, Evan Daniel

Athletic Directors

Rabbi Boaz Tomsky

Head of Dining Room, Assistant Chinuch

Karen Zalta

Mini Camp Head Staff

Laya Daniel

Head of Day Camp

Yaacov Duwek, Amanda Dryer, Shimon Shushan, Idit Shushan, Odelya Suissa, Rikki Lehman, Yiska Klein

chinuch staff

Rabbi Josh Lehman

camp head rabbi

Larry Wingate, Augusto Kennedy

Heads of basketball

Leslie Ann Fromen, Beth Taksel

Heads of baking program

Hila Leibowitz

head of canteen, Sprinkles

Karen Herskowitz

Head of lower boys campus