The Camp Seneca Lake Staff Is:
Camp Seneca Lake takes pride in the quality staff that return year after year. Our division heads, Chinuch staff, Sports & specialty staff, waterfront directors, infirmary personnel and any other specialty area staff  all play an integral part in the day to day operation of the camp. We are one big family that cares for your children like our own. Camp Seneca Lake is home to approximately 450 campers and 150 staff.  Our counselor staff come to us from many of the main Yeshivahs in the New York Area as well as Florida, California and Israel. Working at Camp Seneca Lake is a very rewarding experience for both the staff members and the campers and ultimately, our goal is to have these experiences, friendships and memories stay with the campers and staff for the rest of their lives.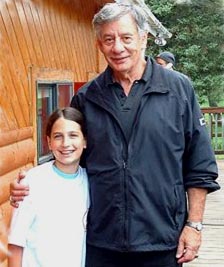 In 2010 Irv was elected into the Jewish Basketball Hall of Fame
Irv Bader is the founder and Director of Camp Seneca Lake. He has been a camp Director for over 41 years, and hires all his staff members, and oversees the entire camp operation. He makes sure that all campers' religious, social and athletic needs are met. Irv has been able to retain key staff members at camp for many years.
Irv is also the Chairman of the Physical Education Department and Athletic Director at Touro College in New York, NY. Prior heading up Touro College's Athletic Department, he was the Athletic Director at North Shore Hebrew Academy High School in Great Neck, NY and Flatbush Yeshiva in Brooklyn, NY. He was also the Director of Adapted Physical Education for the New York City Department of Education for 28 years and a retired Professor of Physical Education at Brooklyn College for 26 years.
Camp Rabbeim And Chinuch Staff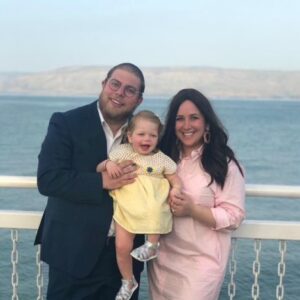 Jessica and Rabbi Zev Kahane
Jessica and Rabbi Zev Kahane live in Bergenfield, NJ with their daughter Margalit. Jessica, a former camper of Camp Seneca, grew up in the Five Towns, and attended HAFTR and Ba'er Miriam Seminary. Zev grew up in Teaneck and attended TABC and Yeshivat Shaalvim.
The Kahane's lived in Jerusalem for three years at the Yeshiva University Gruss campus where Zev received his Semicha rabbinic ordination from YU's RIETS. While living in Israel, Zev taught in Shaalvim for Women, Mevaseret, and Torat Shraga. The Kahane's moved back to Bergenfield, and now Zev is a rebbe at The Moriah School of Englewood. Zev also works for NCSY and Congregation Ahavath Torah in Englewood. Jessica Kahane works for NCSY, where she is in charge of family engagement in the New Jersey Metro West region. Through their work with NCSY, Jessica and Zev have led humanitarian chessed trips for high school students, to cities all over country, where they volunteered with Habitat for Humanity. Jessica also owns and manages her own jewelry company.
The Kahane's strive to serve Hashem with happiness and love and they look to spread that happiness and love to their family, friends, and students. They love spending their summers in camp. Rabbi Zev has served as the camp rabbi previously in other camps. They recognize, that in addition to all the fun and great memories, camp provides great opportunities for unique growth and personal development.
Jessica and Zev Kahane are so excited to join the Camp Seneca Family.
Ross Zuckerman

Assistant director
Shalom Babayev

Division Head

Andrew Leibowitz

Special Activities Coordinator & Mini Camp Director

Alexis Blatt

Division Head

Karen Hershkowitz

Division Head

Avishag vana

Division Head

hannnah Lippman

Assistant Division Head

Zeeva Sklar

Division Head 

tamar edell

Division Head

Amy Kalter

Head of Summer office

Eliza Dachs

Infirmary manager

Beth Pykus

Accounts Payable

Judith Rose

Head Nurse

Aliza Duftler

Infirmary Staff

Yonit felderman

Head of Pool

Andrea Randolph

Head of Lake

Jenny Goldstein

Assistant Program Director

Arup Dutt

Head Tennis Director

Irene Okun

Arts & Crafts

Yael Rudolph

program director

David Benhamu

Head Chef

Hava Greenfest

Head Chef special diets/allergy kitchen

Leslie Ann Fromen

Head of Baking Program

Nikki Sulemanoff

head of summer office

Harry Bernzweig

division head

Amanda dryer

Head of cooking program

Tali Seinfeld

Infirmary staff

roi malagen

Division Head

Emil Coronado

Assistant Division Head, Head of Softball Program

Robyn Dweck

Division Head

Nechamie Goldberg

Infirmary Staff

Talia Rosen

Infirmary Staff

Chad Davis

Athletic Director

Rabbi Boaz Tomsky

Head of Dining Room, Assistant Chinuch

Karen Zalta

Mini Camp Head Staff

Laya Daniel

Co-Head Day Camp

shachar fruend

Division head

Asher and nechama krohn

chinuch

Ido suissa

division head

Odelya suissa

chinuch

Larry Wingate

Head of basketball